New Volume of Essays Published in Honor of Stephen Booth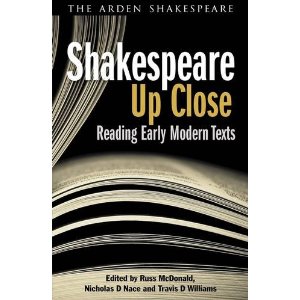 In February 2012 Arden Shakespeare, an imprint of Bloomsbury Publishing, brought forth a festschrift of essays in honor of Professor Emeritus Stephen Booth: forty short essays demonstrating various sorts of close reading in honor of the closest of all close readers. A number of Berkeley professors contributed to the volume, including Paul Alpers, Charles Altieri, Joel Altman, Donald Friedman, and James Grantham Turner. The volume is entitled Shakespeare Up Close: Reading Early Modern Texts.
This landmark collection of newly-commissioned essays by leading international scholar offers expert close readings of Shakespeare and other early modern authors. The book is an intervention into current critical methodology as well as an invaluable tool for all students of the literature of the period, exemplifying the possibilities of close reading in the hands of a range of gifted practitioners. Chapters cover a range of key texts from Shakespeare and other major writers of the period such as Milton, Donne, Jonson and Sidney. This is a unique collection as no other book offers such a rich variety of self-contained, short-form close readings. As such it can be used in the undergraduate classroom as well as by scholars and post-graduates and will also appeal to literary readers with an enthusiasm for Shakespeare.


Posted by Jeffrey Blevins