"Show don't tell": The Founding of The Folio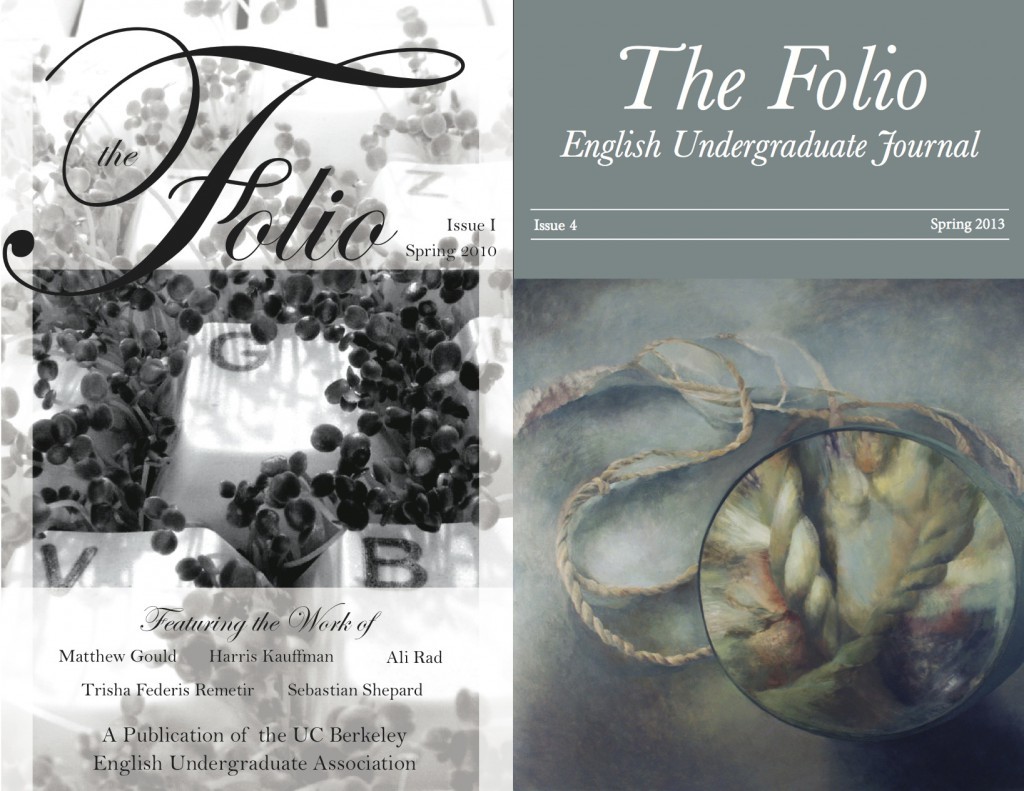 In the following article, Lauren Mueller ('13) details the founding of the English department's first undergraduate academic journal, The Folio. Lauren graduated from Berkeley last May with an honors degree in English and a minor in Philosophy. She is presently pursuing a career in communications and/or speechwriting.
For more information about The Folio or to become involved, email:
TheFolioUCB@gmail.com
Go to the website:
www.ocf.berkeley.edu/~thefolio
Like "The Folio at Berkeley" on facebook:
https://www.facebook.com/pages/The-Folio-at-Berkeley/145439072203428
"Show don't tell," my writing teachers would tell me in high school. Strangely, they were so busy telling me how to write, they rarely took their own advice and showed me. At Cal, the problem remained: a little too much telling, and not quite enough showing. Examples were what I needed, but how was I to find them?
Luckily, a couple of my classes supplied me with sample "A" essays, drawn from the archives of previous courses. Reading those essays, I began to realize that untapped resources in our department were going to waste. Every year hundreds of undergraduate English majors pass through the Berkeley English department. Together, they produce thousands of essays, a good portion of which are fantastic. With all these successful essays flying in and out of Wheeler, why was I still struggling to find useful examples of this kind of excellent writing?
I had heard about undergraduate academic publications in the History and Philosophy departments, and I wondered why the English department was lacking in this regard. It seemed to me that an English department academic journal would supply students with a reliable resource for academic writing, while simultaneously providing the best and brightest an opportunity to publish and be published. So why didn't such a journal exist? It wasn't for a lack of enthusiasm: many of the people I talked to seemed interested in the idea of an English department undergraduate journal. But few were willing to devote the time and effort needed to get such a venture off the ground. Luckily, five students and one professor stepped to the challenge. In the summer of 2009, Rose Booker, Kaelan Connela, Caitlin McGuire, Matt Reznick, Christine Rogers, and Professor Kent Puckett joined me in an effort to make The Folio a reality.
The word "folio" is a medieval and renaissance printing term referring to a sheet of paper or parchment folded once in half. The name was apt given that the first iterations of The Folio constituted exactly that: sheets of printer paper folded once in half, and stapled in the middle. The simplicity of this format speaks to The Folio's very humble beginnings. With no money, no recognition, and very limited resources, the founding of The Folio was difficult at best. In the beginning, I set long-term goals, one of which was to carve a niche in the community that would not erode in the face of economic or organizational struggle.
It is inevitable for campus organizations to face frequent setbacks as students graduate, or are compelled to negotiate between varied and often conflicting commitments like debilitating exam seasons, study abroad, or senior thesis projects. This often means that organizations started even with the best intentions often disintegrate after only a year or two of existence. So in The Folio's first couple years, my fine fellow Foliots (as we called ourselves) and myself worked to put in place what we hoped would be a long-lasting organizational foundation. We wrote a constitution, pursued ASUC publication status, ASUC sponsorship, and funding from a variety of sources, engaged in a wide variety of marketing practices (including tabling, email marketing, social media, and even a signboard on Sather Bridge), and we saved on production costs by copying, folding, and stapling in-house.
But perhaps more importantly, our ultimate priority in the founding of The Folio was to produce a quality product. Sure, the printing quality itself was minimal, but the writing, editing, graphic design, and proofing had to be top-notch. I firmly believe it was this dedication to quality that ultimately won us the ASUC Best New Publication Award in spring of 2011. In addition, I believe these initial efforts to develop a strong foundation for The Folio have allowed it to survive. For example, some of our early advertising efforts led one of The Folio's current editors to become acquainted with the publication: Katy DiNatale. She will be heading The Folio this year together with Zoë Pollak and Dorothy Tu, and she says that she first found out about The Folio at a student-organization tabling event. "I picked up a copy of the first edition of The Folio and I read it on the way home and thought, 'I want to be part of this.'"
As a transfer to Berkeley at the time, Katy says that the essays she read in that first edition of The Folio gave her some insight into how to frame an argument, and they helped her to learn new ways of looking at literature. She joined the editorial board a year ago and has since obtained valuable experience in editing and the business of academic publication. "I had edited plenty of papers before, but not at the sustained, thoughtful level that editing papers for The Folio requires," she remarked. "I'm quite interested now in becoming an editor, as a career option, because of my good experience working as an editor here."
Together with the goals Katy has developed for her own career, she has also set some goals for The Folio. Though a far cry from its initial obscurity, The Folio's visibility in the department and on campus is the main thing Katy hopes to expand. "Even though we are targeted towards English majors," she explains. "Everyone has to take English classes, and everyone has to write papers… The Folio could potentially be very helpful to students even outside the English department."
As The Folio enters its 5th academic year this fall, the future it will face is unknown, but the influence of its past is clear. Through the hard work and dedication of its founding board, as well as the work of its members ever since, The Folio has proven a valuable resource and learning experience for undergraduates and educators alike. My only hope now is for it to prosper and thrive: to show what educators can only tell, and to help those who struggled like me for years to come.

Posted by Jeffrey Blevins