Aurora Theatre-English Department Benefit: Hamlet in College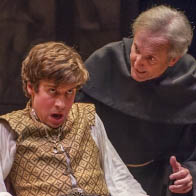 The Fourth Aurora Theatre-English Department Symposium took place on Saturday April 26. The day's events, which served as a benefit for the Department, were attended by 75 Alumni and Friends of English, some reliving their Wheeler Hall experiences. Organized around the Aurora's production of David Davalos's Wittenberg, the day started with a spirited panel discussion between Josh Costello, the play's director, and four members of the English Department's faculty, all specialists in Renaissance literature and frequent teachers of Shakespeare: Professors Oliver Arnold, Joel Altman, Jeffrey Knapp, and David Landreth. It then continued with a reception and finally culminated in the performance of the play itself. In what follows, current graduate student Alek Jezoriek, who has written a number of theater reviews for our "On the Scene" series, reflects on the panel and the performance.
"The sweetest Hamlet I've ever seen," said director Josh Costello about actor, Jeremy Kahn, at the panel discussion of Wittenberg presented by our very own English department on April 26th play is as silly as a sweet Hamlet might suggest, and I was surprised, when viewing it, to discover the seriousness of my mood. Like Hamlet, I felt thwarted by two parts of my psyche. On one hand, the play pulled me into the orbit of my intellectual seriousness, tempted as I am by the opportunity to think earnestly about literary allusion. But, defying a Copernican model, this orbital focus is unfortunately not solar in its radiance. On the other hand, the play constantly dislocated me from this orbit and into the sportive exchange of terrestrial silliness between friends. Despite all the comedy, my thwarted psyche kept anticipating how the play would resolve and lead us to the world-historical and tragic stories that it precedes. That, it seems, is a pleasurable anticipation.
Given Wittenberg's ambitious source texts, the play is interesting in its deliberate choice to inherit and pastiche three monoliths of Early Modern literature. Wittenberg is a prequel to Hamlet, Christopher Marlowe's Doctor Faustus, and Martin Luther's The Ninety-Five Theses. And its premise is that Hamlet is in college at Wittenberg, studying with his two tutors, Doctor Faustus and Martin Luther, before returning home to Denmark, where his father will soon be poisoned. I am sympathetic to Wittenberg's orientation to the past, and it has remarkable ambitions for a contemporary audience, however subtle these ambitions might at first seem. The play is worth attention because it foregrounds two practices that may be considered "odd," or unpopular, in our contemporary moment: (1) it stages a substantial amount of what we might call Platonic or philosophical dramatic dialogue and (2) it presents amity between the secular and religious in a counter-factual prequel to the Reformation and the tragedies of Hamlet and Doctor Faustus.
In a time when plot propels binge-watching serial television on Netflix, Wittenberg offers little plot. That is as it should be. After all, we already know how it ends. If the resolution of the play already leads to the lofty historical and tragic narratives with which we are so familiar, how does the play sustain enough dramatic tension to absorb the audience's attention? "Philosophy," Faustus lectures, "is talking to oneself. Theology is talking to God." Wittenberg, we might add, is overhearing people have these conversations. Philosophical lectures, sermons, office hours, tennis matches, prayer—all this amounts to a lot of back and forth. And, instead of plot, Wittenberg presents a series of pseudo-philosophical dialogues between friend and friend, teacher and student, theology and philosophy that shape the ideas and language of the characters so determined by their source texts. On one hand, David Davalos (author) presents Faustus as a proto-Freudian philosopher, who believes in free-will, or "choice." On the other, Luther is, well, Luther, except he likes to drink beer (about 4 beers in 10 minutes in one scene), and he is thwarted by constipation and a troubled relationship to the Church. As we would expect, he believes in Providence. Hilarious and predictable disagreements ensue.
Wittenberg's solution to the possible stagnation of contemporary Platonic dialogue is bathos; that is, rather than proceeding with the existential seriousness of Hamlet, it transitions from the "high," or the philosophical and theological, to the "low"—sexual dumb show, innuendo, scatological humor, puns and so on. The dialogue is fast and allusive, and it tickles most when it transposes lines from Hamlet's soliloquys into dialogue masquerading as the source of the former. In an office visit to Doctor Faustus, who ponders a number of philosophical dualities that end with "to be or not to be," Hamlet, confused by the train of thought, asks, "That is the question?" But these dialogues only skim the linguistic surface of Hamlet's rich soliloquys, and offer little to no actual philosophic content. Such disappointed philosophy left me wondering whether staged philosophy could be anything other than comedy, or whether philosophical seriousness would only appear pedantic and conventional. This unresolvable dynamic between philosophy and comedy explains some of my "thwarted psyche," as I called it above.
The second practice—presenting amity between the secular and religious—I am less qualified to address on my own, but, luckily, it was one of the subjects brought up during the panel discussion of Wittenberg. Implicit in most of the discussion raised was the difference between the audiences of Elizabethan England and those of the 21st century. It aimed to fill in the rich background of Wittenberg that constitutes those differences for contemporary audiences. It is an especially complex background; the play takes place during Early Modern history (i.e. after the Middle Ages) in a city famous for its university, which Hamlet attended, and well known as a setting for two of the play's primary source texts—Doctor Faustus, and The Ninety-Five Theses. The panel included Professors Jeffrey Knapp, David Landreth and Oliver Arnold, as well as director Josh Costello and a guest appearance by dramaturge, Joe Ring, who annotated the highly referential script for the actors. My encounter with Wittenberg turned out to be as much an encounter with the ideas discussed in the panel as it was with the play, and the panel made me serious about enjoying the playful spirit of Wittenberg.
Referencing a scene in which Faustus guides Hamlet through Freudian free-association, Professor Knapp argued that the play is aware that Shakespeare, Marlowe and Luther actually wrote the script for parts of the play—an idea that appears to contradict the "choice" that Faustus champions in his lectures. The scripts of Hamlet and Doctor Faustus are Wittenberg's Freudian unconscious. If words seem to arise unbidden from characters—Hamlet associates "camel" to "weasel" to "whale," anticipating Act III, scene II in Hamlet—then it is only because these earlier authors provide the material for Wittenberg, whose fictional world precedes its sources. Joe Ring echoed this claim in the Q&A, when he emphasized that Wittenberg frames allusion as an unanswerable question: "How does one write something new without quotation?"
Professor Landreth meditated on the play's awareness of economy: first, it presents three prequels for the price of one (a pretty good deal, really), and, second, it registers the economic intervention of Luther's The Ninety-Five Theses, which directly rejected the sale of indulgences. The Papal Church sold indulgences to reduce the amount of time that a buyer would spend in Purgatory for forgiven sins. When Luther nailed The Ninety-Five Theses against the door of Castle Church of Wittenberg on All Saints' Day, he initiated an economic revolution as well as a religious one; he rejected the Papal Church's role as the accountant for the individual's credit/debit relationship with God.
Professor Oliver Arnold discussed the difference between Wittenberg's relationship to contemporary audiences and Shakespeare and Marlowe's relationship to Elizabethan audiences. Wittenberg's ambitious pastiche of pre-Reformation history and Early Modern drama means that it must make current the religious controversy alive in the Early Modern period. In Shakespeare and Marlowe's time, audiences would have been sensitive to the recent change from Catholicism to Protestantism during Elizabeth I's accession to the throne after the death of Mary I (aka "Bloody Mary," who ordered hundreds of Protestants to be burned at the stake). In fact, the generation of Shakespeare's parents would have been Catholic before it was made illegal practice by Queen Elizabeth. All of this suggests that the differences between Catholic and Protestant theology would have been familiar and personal to every Elizabethan audience member. For us, much of this controversy has either been absorbed or lost in contemporary America's atmosphere of religious pluralism. In Wittenberg, Luther's religious struggle transfigures the religious doubt prevalent in Hamlet and Doctor Faustus into the assured and revolutionary Christianity of Luther, who learns from Faustus to assert against the Papal Church what his conscience dictates is right.
Audiences may appreciate that the play doesn't demand that they meticulously trace every literary allusion and historical reference. I actually think that such an obsessive effort would be largely disappointing; the play is playful about its status as a "prequel" to the linguistic material of its source texts. But the play presents seriously a humane and loving interest in its characters. In the language of the university, which Wittenberg continuously lampoons, the play's declared major is Friendship—an investment that director, Josh Costello, emphasized during the panel discussion and in his direction. Luther and Faustus are, above all, friends, and they find in Hamlet both a dutiful disciple and a friend. Independently of the panel, my viewing partner, Jonathan, suggested a tagline for this review: "See this play with a friend!" Like Wittenberg, he is both joking and serious.
For all its participation in serious intellectual tradition, Wittenberg tests human relationships at the furthest bound of their often conflicted existential stakes. Faustus believes in scientific knowledge and the ability of the individual conscience to choose for itself. Luther has faith in God's grace. And Hamlet's mind is the arena in which these two friends compete. As Costello pointed out, the characters disagree about religious and intellectual issues, but they also need an aspect of personality from one another. And the play's final climax ultimately depends upon the intensity of issues that friends cannot disagree upon and still be friends. It's a powerful conclusion precisely because it opens us to the world-historical fate of Luther and the tragical fates of Hamlet and Faustus, and it does so to the tune of Que Sera Sera, covered by Faustus at the local tavern. The play ends with a radical openness to its generic conventions; whatever will be, will be, whether it will be the tragedy of Hamlet and Faustus, the history of Luther, or the comedy of Wittenberg.