Review of Harry Thaw Hates Everybody at the Ashby Stage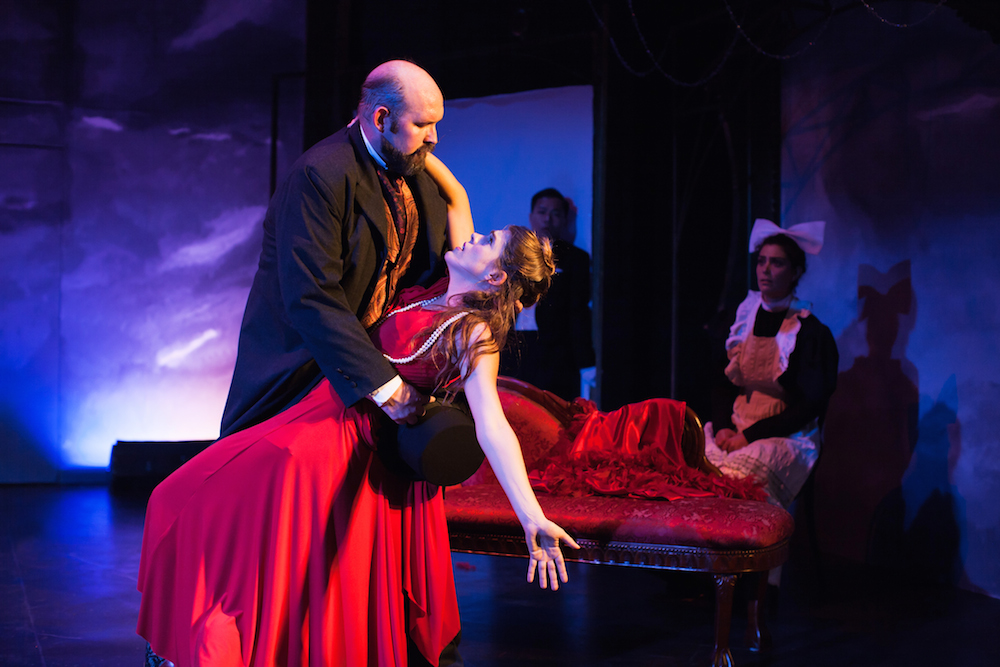 In "On the Scene," a series on theater, we ask current graduate students with an interest in theater to review select local plays. For those of you in the Bay, this will be an excellent way to keep track of nearby theatrical offerings. For those of you elsewhere, perhaps these reviews can recreate a little slice of Berkeley theater for you.
The eighth piece in the series is a review by Aileen Liu of The Shotgun Players' production of Harry Thaw Hates Everybody at the Ashby Stage. It runs until November 23. Call or visit their website for more information: (510) 841-6500, www.shotgunplayers.org.
The true story of Harry Thaw's 1906 murder of his wife Evelyn Nesbit's lover, Stanford White, is one that has been told several times over. These adaptations include The Girl in the Red Velvet Swing (1955), E.L. Doctorow's novel Ragtime (1975) and its musical adaptation (1996), La Fille coupée en deux (2007), and, of course, Harry Thaw Hates Everybody, which premiered in 1999 and is now being revived at the Ashby Stage.
The conceit of Harry Thaw Hates Everybody is that the historical figures—Evelyn Nesbit, Harry Thaw, Stanford White, and Evelyn's mother, Florence—having suffered for years at the hands of these crude adapters, at last have the opportunity to tell the story as they like. Acting as writer, director, and actor of their own adaptations of the tale, each character takes their turn to present their version of the story, while the other characters—for the most part—dutifully play their assigned roles. This is a story that has been told many times before; in this play, the story is told four more times.
Stanford White (Steven Hess) uses his act to sing a self-aggrandizing song, vaudeville-style, and present a slideshow of his architectural accomplishments and his favorite nudie photos. Mrs. Florence Nesbit (Carla Pantoja) presents the story as a melodrama—starring herself as the poor widow who just wants the best for her children, of course—complete with artfully arranged tableaus vivants and sensational newspaper headlines, which are projected onstage like microfiche blow-ups. Harry Thaw (Keith Pinto) takes over the third act by throwing out his original script (to the protests of the other characters), and having them read aloud from a new script that puts them in the witness box of a courtroom and makes him the prosecutor. Evelyn Nesbit (Rosie Hallett) does the final act as avant-garde theater and cabaret; as her fury builds toward these controlling figures in her life, the set begins to rumble and fall apart, the lights flicker an eerie blues, and the characters writhe and mutter in interpretive dance.
What results is a thrilling exercise in meta-theatricality. By telling the story through distinctly different genres—vaudeville, melodrama, courtroom drama, avant-garde—the play asks us to think about the difference between truth and its telling, between one telling and another, between past and present. In other words, it shows how history is always a constructed story.
I fear that, in raising these philosophical questions, I have given a false impression of the play. There are, to be sure, moments of solemnity, but these happen so infrequently that they feel jarring. I suspect that this is the play's attempt at social commentary, which feels strained instead of incisive. That said, on the whole the play is fun, tongue-in-cheek, and very entertaining. It is often laugh-out-loud funny, especially in scenes when the characters, and their perspectives, come into conflict. It is true that this is a story that has been told many times before, but there is a particular freshness to the Shotgun Players' retelling.
Shotgun Players' production of Harry Thaw Hates Everybody, written by Laural Meade and directed by M. Graham Smith, is currently playing at the Ashby Stage (1901 Ashby Ave. Berkeley CA 94703). The show is playing through November 23, 2014. Call or visit the website for more information: (510) 841-6500; www.shotgunplayers.org