Review of Caryl Churchill's Top Girls at the Ashby Stage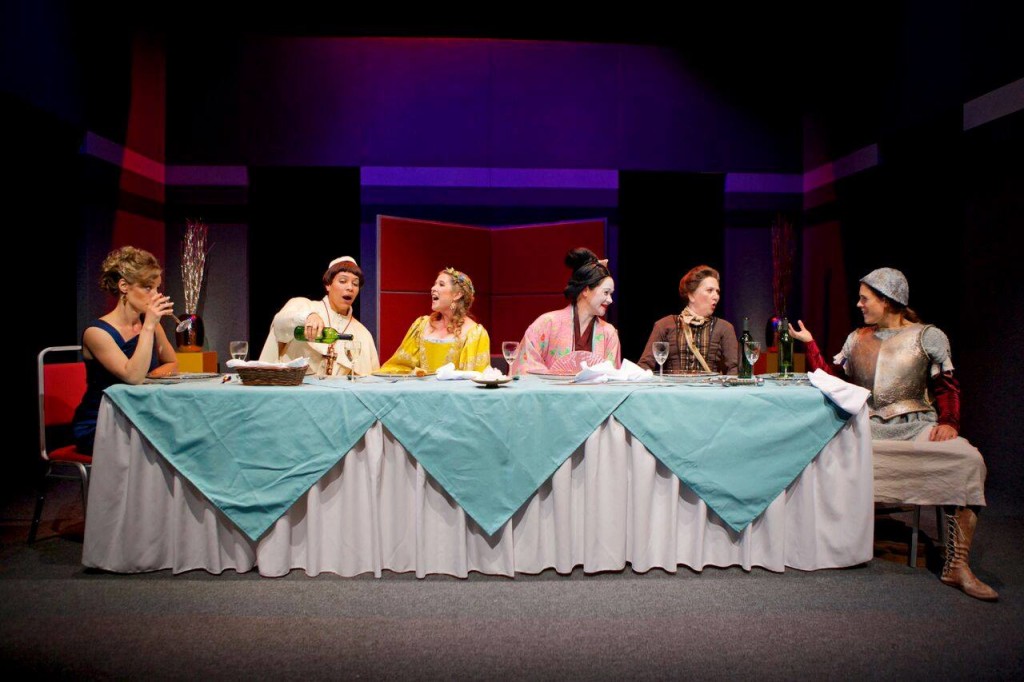 In "On the Scene," a series on theater, we ask current graduate students to review select local plays. For those of you in the Bay, this will be an excellent way to keep track of nearby theatrical offerings. For those of you elsewhere, perhaps these reviews can re-create a little slice of Berkeley theater for you.
This is a review by Tyleen Kelly of the Shotgun Players' Production of Caryl Churchill's Top Girls, directed by Delia MacDougal. It is playing until August 2nd.
At the center of their season showcasing female playwrights, Shotgun Players present Caryl Churchill's Top Girls [1982] under the vigorous direction of Delia MacDougall.
The first act discombobulates the viewer with a surreal dinner party celebrating Marlene's promotion (having purportedly beaten out the male competition) in the Top Girls Employment Agency. Marlene has invited a motley crew of female legendary characters and historical figures spanning the 9th to the 19th centuries to share a victory meal with her, and the question that I invite the audience to ask is: Why were these particular individuals chosen? What do the memories and opinions they share illuminate about the 'woman of the hour'? All of the actors in the dinner scene (save the central role of Marlene, played by the masterful Kendra Lee Oberhauser) will double for other characters in the more temporally concretized second and third acts, and MacDougall has made very expert casting and doubling choices that offer lasting significance.
Churchill's structural brilliance as a playwright is readily noticeable in the non-linear acts (the first seems to occur over a weekend that precedes the action of Act II, while the 'final' act takes place a year before) and in the patches of overlapping dialogue. One's ears walk a tightrope between voices—and inevitably fall—but during that experience they are also learning to grasp toward a double message. This could be aided and punctuated by pristine line, cadence, volume, and accent delivery by the actors, which was seldom apparent in this production. Yet the occasional muddling of dialogue is also obviously a reality in conversation, and underscores the question of whether the individuals are in fact listening to each other at all.
The tight direction and acting commitment were apparent in the more 'boutique-y' scenes of Acts II and III. One-on-one interviews between each Top Girl associate and her client were blocked closest to the audience, potentially staging the latter uncomfortably inside the office and under the harsh gaze of its split-second career (/life) evaluations. The actors' physical acting worked seamlessly with the spot-on costumes, well-gestured 80s-era spaces, and immaculate dialect work. I especially appreciated Aily Kei Roper's impish indifference as Marlene's niece's friend Kit, Karen Offereins' bitterly brittle Louise, Rosie Hallett's terrible (as in both poor and threatening) posture as the niece Angie, Leontyne Mbele-Mbong's (as Nell) scathing "Aces", and Jessma Evans' (as Win) self-satisfied yogurt-lid lick.
Danielle Cain (as Mrs. Kidd, Marlene's older sister) and Oberhauser admirably put tension on the steady boil in Act III. This is a strenuous acting task that requires the perpetual kindling of multiple fires (a.k.a. shared back stories rife with misunderstandings and betrayals) that only thorough character work in addition to being jointly present could support. In these acts I believed that each character deeply needed something from someone else.
Act I left me more uncertain as to the direction. I should have liked to see more imaginative effects that would support the unhinged temporality and characters throughout the scene and not only at the end (which was admirably conducted). It was difficult to absorb the chilling build because of certain distractions, such as some over-heavy dialect work and less attention to cadence, volume, and timing of delivery as previously mentioned. Contrary to later staging that seemed to creep into/out the audience, the dinner table of the first act and the seating of the characters along it presents a fully-conventional, fourth wall-abiding, sterile barrier. I can admit that it is therefore suggestive of The Last Supper, or Judy Chicago's The Dinner Party, or a flat medieval tapestry, but I would like to see extremity instead of suggestion, which I think would help the actors better revel in such gorgeous characters, embrace themselves outward in, and jostle the audience's senses invaluably.
Another beef I had with the production, especially in the first act, was that there was real food and drink being ingested. I would have loved to see more extremized 'food' being served at the dinner instead, but regardless I believe that the incidental energy used by the actors' bodies to literally engage with the food and liquids unhelpfully competed with their flow of energy meant to express an intention. The choice was dutifully accomplished, but more might have been revealed with self-endowed victuals.
Although the play is saturated with the issues and pull of Britain in the 1980s we do not become privy to Marlene's political infrastructure until it is horrifyingly 'soused' out during a visit to her older sister in the final act. In honor of Caryl Churchill's famous claim "Playwrights don't give answers; they ask questions" I heartily encourage an excursion to this completely topical production and ask: Will any of Churchill's characters be invited to your surreal dinner when celebrating your success? Or more importantly: On whose dinner list now would Margaret Thatcher appear?
The Shotgun Players' production of Top Girls is playing until August 2nd. Call or visit their website for more information: (510) 841-6500; www.shotgunplayers.org