Review of Aphra Behn's The Rover at the Ashby Stage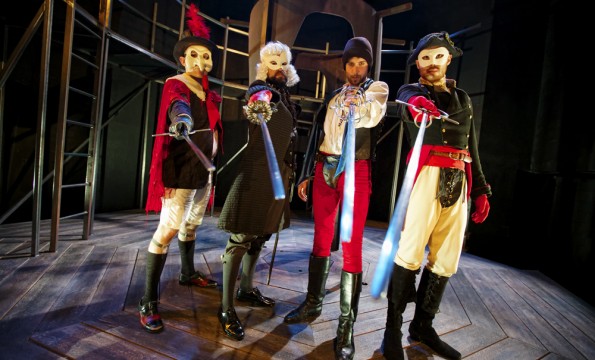 In "On the Scene," a series on theater, we ask current graduate students to review select local plays. For those of you in the Bay, this will be an excellent way to keep track of nearby theatrical offerings. For those of you elsewhere, perhaps these reviews can re-create a little slice of Berkeley theater for you.
This is a review by Gerard Ramm of the Shotgun Players' production of Aphra Behn's The Rover, directed by M. Graham Smith. It is playing until November 15th. 
The first thing one notices on entering The Shotgun Players' production of The Rover is a 12-foot-high, rusted, iron altarpiece in the center of the stage, blending the industrial severity of a Richard Sera sculpture with the visceral form of a molar tooth. This piece stands on a blunt-gray wood, octagonal thrust, buttressed by steel scaffolding and bathed in a frigid blue light. Against this background, one might expect a staunch, minimalist interpretation of Aphra Behn's 1677 play about disguise, defamation, and debauchery.
What one receives, instead, is a spry and delightful pastiche that conjures the full range of possibilities – from hilarious to severe – of The Rover's Carnival. M. Graham Smith and his fantastic collaborators have managed a production that ventures from Restoration drama to harlequin romance to burlesque show to acid-jazz odyssey to Benny Hill to David Lynch that never obscures clarity of character or coherence of plot. More than that, this production deploys its fluid genres as a means of representing Aphra Behn's social commentary and its stakes for our present moment.
One might configure The Rover's plot around different episodes of coercion. Don Pedro (Dan Saski) coerces his sister Florinda (Siobhan Marie Doherty in an ardent, adept performance) to marry his preferred suitor Don Antonio over her love, the English soldier Belvile (Alex Lydon). This sets off Florinda's attempt at uniting with Belvile before the marriage must take place. Meanwhile, Willmore (a wonderful, boisterous Jeremy Kahn), the English "rover" of the play's title, attends a raucous Carnival in an attempt to coerce a number of different female attendees into sex, including the courtesan Angelica Bianca (Lauren Spencer). Blunt (Justin Gillman), the third English carnival-goer, finds himself coerced into a dark bedroom by an enigmatic sex-worker, Lucetta (Elissa Beth Stebbins), who denudes and robs him, leaving him in a state of vengeful aggravation.
The production recasts these moments of coercion with ominous light and sound cues that aptly link the many ways by which men deprive women of their consent (authority, deception, force). But the production does not simply rehearse a common narrative of female victimhood. The women in this play pronounce Behn's language with a vituperative sarcasm and raw power that matches (and often dwarfs) their male pursuers. Likewise, the male actors deftly perform their lapses in power, failures of strength and impotence of wit. Their performances effectively expose the shallow jokes, phallic obsessions, and misogynistic slurs that constitute the boy's club founded in Behn's time and active today.
All of the performances here are uniquely strong, but it's the three female leads – Spencer, Doherty, and Caitlyn Louchard who plays Florinda's savvy sister Hellena – who merit praise in the final act. Without revealing too much to the unfamiliar, the putative reconciliation of the male aggressors with their female counterparts takes place through profound expressions of agency from each actress. Spencer, Doherty, and Louchard – each confronting the male cohort in her own way – handle Behn's attempt at resolution with an emotional candor that does justice to the vital subject matter on display. Without a trace of contradiction, these actors expertly inhabit the fraught terrain of desire, which can veer from rollicking carnival to industrial wasteland with a step in any direction.
The Shotgun Players' production of The Rover is playing until November 15th. Call or visit their website for more information: (510) 841-6500; www.shotgunplayers.org