Exploring literary history at The Bancroft Library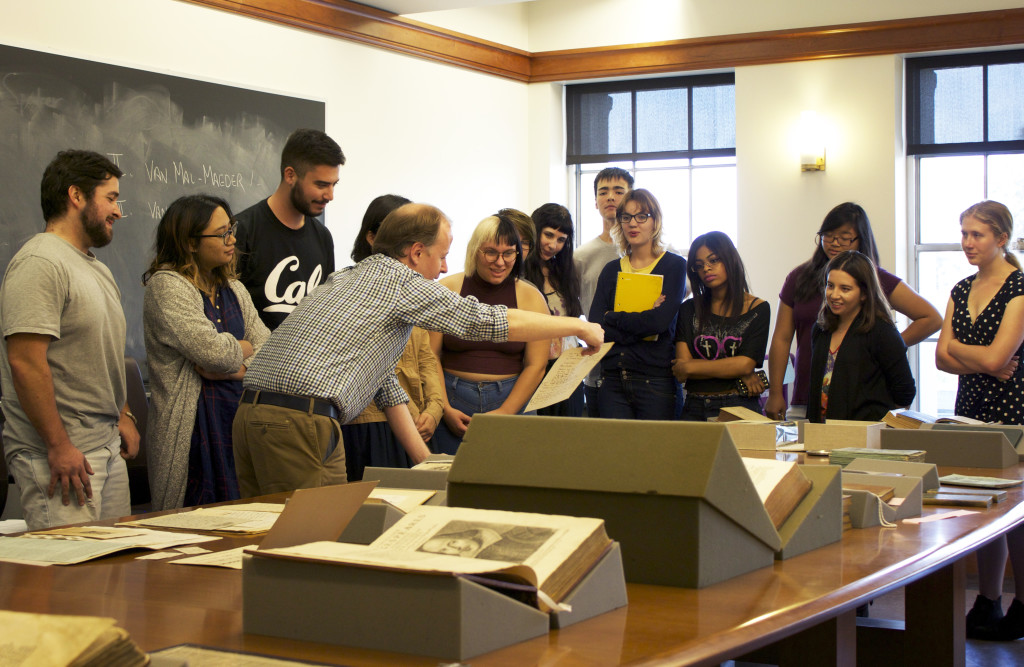 The week of October 7th, 2015, Berkeley Connect in English students had the opportunity to get up close and personal with some of the Bancroft Library's most prized literary works. Here's Samantha Zevanove's first hand account of her experience.
Let's face it: as English majors in 2015, it's easy to take books for granted. Whenever we want to get our hands on a text, we have many means of access at our disposal. In the midst of this widespread access, we lose sight of the fact that the history of literary production and distribution is deeply complicated.
But when an English major experiences the Bancroft Library's special collection, this fact becomes a stark reality.
The visit happened inside a single room. As we traveled around the table, collectively inching along, the curators spoke to us about the rich history of each text. We started with the Brut Chronicle, a handwritten history of England often referred to as "Shakespeare's sourcebook." We learned how manuscripts like the Brut Chronicle could take a decade to complete, invoking the image of an exhausted scribe hunching over the same project year after year. We then moved to Shakespeare's folio, a text reproduced through the machinery of a printing press rather than through the labor of a human hand.
Yet, as we soon discovered, the development of the printing press did not necessarily simplify matters. Indeed, the politics and structure of the publishing industry has interacted with the creative process in fascinating and often problematic ways. Authors have had to navigate these barriers to ensure that their work would end up in the literary marketplace. Multiple works in the collection demonstrated this fact, including Frankenstein, Little Dorrit, and Ulysses. Shelley, being a female writer in the 1800's, first published Frankenstein anonymously to avoid accusations of "impropriety." In writing Little Dorrit, Dickens was forced to end stories on cliffhangers and maintain a serialized format in order to keep his publishers happy. Joyce's Ulysses was literally burned by the U.S. government for its "explicit" content, and it took an entire legal battle with the Supreme Court before the ban was lifted.
Even with the politics of publishing aside, when we peered down at Seamus Heaney's personal notebook and observed his countless revisions scattered across the pages, we could actually see the toil of the creative process, a struggle that is rendered invisible by the final draft.
When I left the Bancroft Library, a question lingered in my mind: as students of literature, how do we make sense of the commitment writers have to the realization of their own work?
I think the only reasonable response is awe.