Fiat Lux: Brian Yu's 2016 Commencement Address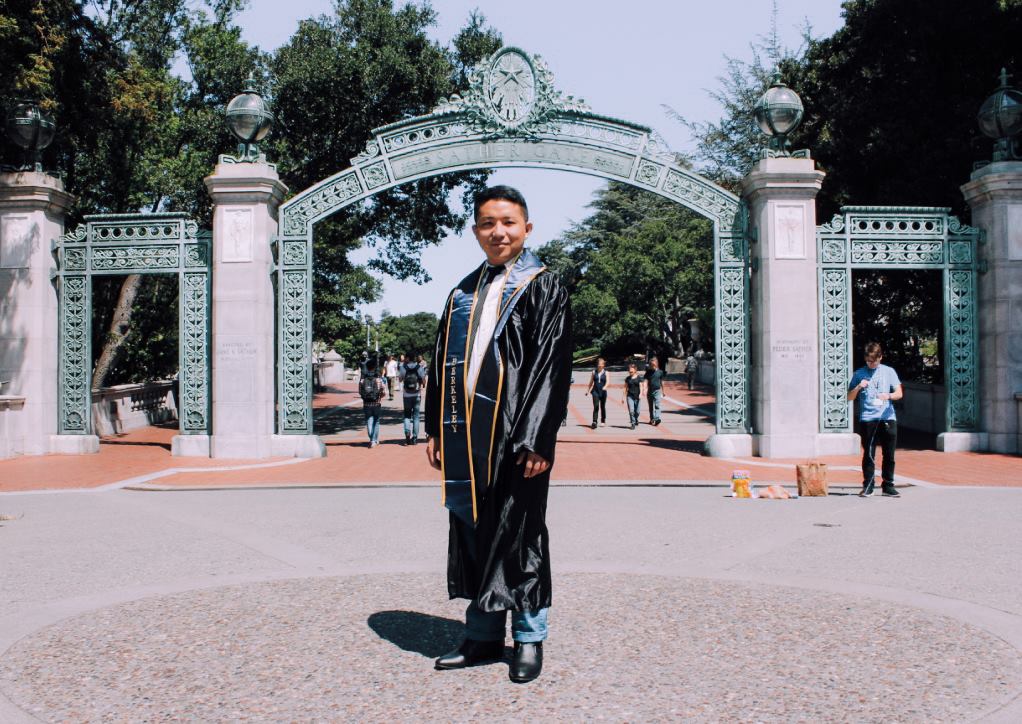 Graduating senior Brian Yu ('16) was chosen to speak at the English Department's 2016 Commencement Ceremony on May 21st, 2016.  What follows is the text of his address. 
Dear Parents, Family Members, Esteemed Faculty, Staff, and the UC Berkeley English Class of 2016! Welcome to the 2016 English Commencement.
I was sitting in an English class recently when a classmate turned to me and said "Man, I can't believe how fast this school year is going. Time flies when you're reading books."
To which I replied "Have you taken 45B?"
But for many of us, it does seem that time has indeed, gone by very fast. Whether you've spent 4 years at this university (or like myself) have come in as a transfer, to be an English Major at UC Berkeley is to partake in that singular experience of being at one of the greatest higher education English programs in the world.
To give you some idea of the caliber of Professors who teach here, every English student at UC Berkeley is expected to take a thesis seminar in order to graduate. The course I chose to take dealt with the intersection of poetry, music, and meter. In the process of writing my thesis, while I was able to find research materials about these three elements separately, I found very little in the way of research that talked about the juxtaposition of these three elements together. Thus, I decided to sit down with my Professor and explain my situation. She responded that she too was aware of how little research there was surrounding the subject, and then slightly embarrassed, explained that there was a book about that very subject that could answer all my questions. Excitedly, I asked her where I could find such a book. She told me she was still in the process of writing it. Such is the life of a Professor at UC Berkeley.
In our short time here, I have seen the landscape of English, and my perspective of it change as well. When I first came to Berkeley, I found myself being educated in the classics of the English Canon. Austen, Shakespeare, Melville, Keats, and Chaucer. Halfway through my first year, I found myself being educated by people such as Aesop, Drake and Beyonce before realizing I should really stop listening to music and get back to work. But by the end, I was reading authors that talked about contemporary issues by bringing their diverse voices and collective experience and wisdom to the table.
Authors like Tah Nesi Coates, Junot Diaz, Jhumpa Lahiri, and the works of my peers. Many of whom will probably go on to win the Pulitzer, the Nobel Peace Prize, or the Macarthur Genius Grant; or because this is Berkeley, maybe all 3. Who knows? Berkeley students are capable of achieving anything. But if you do, remember that I said it here first.
In classrooms, we learned to analyze subtext, the placement of metaphors, the use of allegory. Thus, while all majors to some degree learn to read or write, only the oft maligned English has offered that rare opportunity not just to spend our time here reading, but to nurture that ability to read between the lines and think for ourselves.
To be an English major is to be simultaneously be immersed in all the different subjects that this university has to offer. From Austen, we learned sociology, and the rudiments of human nature and interaction. From Johnson and Coleridge, we learned about ecological systems, and the beauty of nature. (Though my classmates will be the first to tell you that there were times where I was more interested in learning about the best position on my desk from which to take a nap rather than any romantics). From Toni Morrison, and the great Tah Nehsi Coates, we learned about the notion of identity formation through race, and the multitudes of complexities that that embodies; questions that no one has the answers to, but must still be asked.
To be an English major is to come and see your life as a story that is worth telling, and while recognizing and realizing the value of stories that are much more different than yours. That while your graduation might mark the end of your story as an undergraduate here at Berkeley, it also signals that a new chapter is about to begin.
The greatest thing I have ever loved about this school, our school, is not just the books that I got to read inside of its classrooms, but the stories that I got to experience outside of them. Stories like that of the 90-year-old Korean grandmother who lived on my floor last year, because this was the first time in her life that she had time to devote towards herself and her education with the goal of someday becoming a counselor. Stories like that of my friend who had decided to come back to school after serving for a period of time in the Navy, and had hopes of one day writing a book about his experiences. Stories like that of my mother and countless other immigrant parents, who traveled across continents and oceans and pooled together what little resources she had to help send me here to UC Berkeley. And it is stories like these that I will carry for the rest of my life.
During the first week I came to Berkeley, I made a pilgrimage to the Campanile. And just before I entered the tower, I looked up at the base to see the words "Fiat Lux" inscribed there; Latin for "Let there be light."
When I moved to Clark Kerr, every night to relax from the pressures of school, I would take a walk and at the end of it, I would look back towards campus, and see that single lantern from the top of the Campanile lighting up the night sky. And no matter where you were in the area, be it at downtown Berkeley near the Marina, or in Southside hanging out by the dorms, or even up by the Big C, you could always see the light. You could always count on that light to be there. At the time, I thought I was looking at the brightest source of light at the university.
It is only now, standing before you here today that I realize that I was mistaken. The term, "Fiat Lux" was not meant to refer to the light shining from the top of Sather Tower. Instead, it was meant to refer to the light inside all of us. How often we look up to marvel at the lights in the night sky, but how often have we looked to see the stars all around us in our fellow students?
This university, this education, was about bringing out the light that was already there, nurturing it, letting it grow, sharing it and kindling that light with others. This world is a brighter place because of you. Because of your innovation, your talent, your passion, and your creativity. The light was in us the whole time. And sometimes, when things got dark, and there didn't seem like there would be any hope, sometimes all it took was to be around someone who shared our same spark, to kindle that same feeling of joy and light within us again.
And that's what the world needs from you. To have a little more light.
UC Berkeley English Class of 2016, Congrats on graduating, and best of luck in your future journey as you go on to share your light with the world.