Holloway Poetry Series Welcomes Gary Snyder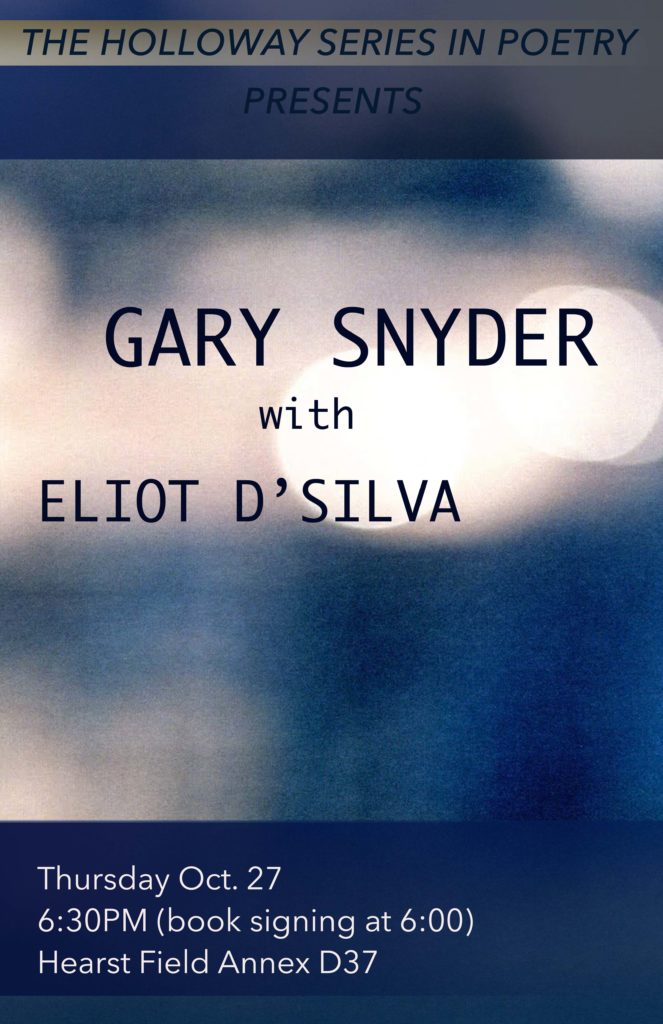 Each academic year, The English Department's Holloway Series in Poetry welcomes several renowned and rising contemporary poets to campus to share and celebrate their work. This week, the series welcomes Pulitzer Prize-winning poet Gary Snyder.
 A member of the Beat Generation and a prolific environmental poet, Gary Snyder is one of the most lauded poets of his generation.  A member of the American Academy of Arts and Letters, he is the author of countless books of poetry, translations, and essays, and has received the Bollingen Prize, an American Academy of Arts and Letters award, a Guggenheim Foundation fellowship, the Bess Hokin Prize and the Levinson Prize from Poetry, the Robert Kirsch Lifetime Achievement Award from the Los Angeles Times, the Shelley Memorial Award, and the Ruth Lilly Award.  In honor of this event, we're sharing his poem, "At Tower Peak."
Gary Snyder's reading will be held October 27th at 6:30pm in room D37, Hearst Field Annex. He will also sign books beginning at 6:00pm.  
The event is free and open to the public.
AT TOWER PEAK
Every tan rolling meadow will turn into housing
Freeways are clogged all day
Academies packed with scholars writing papers
City people lean and dark
This land most real
As its western-tending golden slopes
And bird-entangled central valley swamps
Sea-lion, urchin coasts
Southerly salmon-probes
Into the aromatic almost-Mexican hills
Along a range of granite peaks
The names forgotten,
An eastward running river that ends out in desert
The chipping ground-squirrels in the tumbled blocks
The gloss of glacier ghost on slab
Where we wake refreshed from ten hours sleep
After a long day's walking
Packing burdens to the snow
Wake to the same old world of no names,
No things, new as ever, rock and water,
Cool dawn birdcalls, high jet contrails.
A day or two or million, breathing
A few steps back from what goes down
In the current realm.
A kind of ice age, spreading, filling valleys
Shaving soils, paving fields, you can walk in it
Live in it, drive through it then
It melts away
For whatever sprouts
After the age of
Frozen hearts. Flesh-carved rock
And gusts on the summit,
Smoke from forest fires is white,
The haze above the distant valley like a dusk.
It's just one world, this spine of rock and streams
And snow, and the wash of gravels, silts
Sands, bunchgrasses, saltbrush, bee-fields,
Twenty million human people, downstream, here below.–