Katie Schramm attends University of California Academic Advising Conference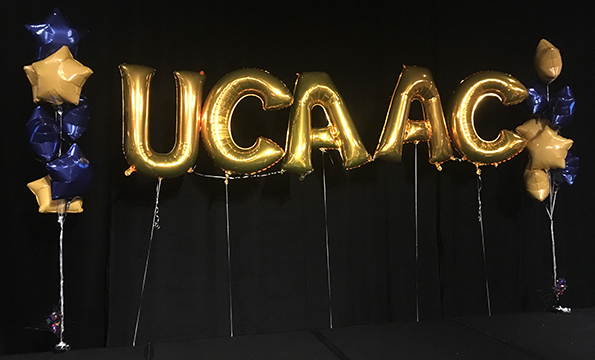 The University of California Academic Advising Conference is an annual conference aimed at providing professional development to strengthen UC-wide academic advising. Held by a different UC campus every year, this year's conference, Expecting the Unexpected: Practical Tools for Advising in a Changing World, was sponsored by UC Santa Cruz and was held in Monterey, California. Below, Undergraduate Adviser Katie Schramm talks about her experience at the conference, what she learned, and what she took away.
This was my first advising conference, and I am grateful I got the opportunity to go this year. Over the course of two days, I was able to attend a number of sessions that not only gave me practical skills to apply when I'm advising students, but also reminded me of the greater value of academic advising and the importance of the work I do. At the conference, I attended two stand-out sessions, one of which was was Undecided: Designing a Career Exploration Program for Humanities, where a group of UCLA academic and career advisers talked about a panel program they created to give students in the humanities a sense of the (many) opportunities that are possible after they graduate. The speakers highlighted that for much of students' lives, they've been going from requirement to requirement, checking of boxes to go to the "next thing" (i.e. high school, then college) and at this point in their academic careers the "next thing" can feel nebulous because there isn't a specific career path that students in humanities fields take (in fact, only 27% of students in humanities fields go on to careers that are in their undergraduate field of study!) While this openness can be very exciting, it can also be nerve-wracking, and so they developed a panel series featuring alumni with humanities degrees working in different career sectors (Business, Arts, Tech, Public Service, Medicine.) There were also panels discussing how students can leverage the skill sets they are building in their fields of student and translate them into skills that employers are seeking.

The second stand out session I went to was called Serving Students as They Are: Meeting the Needs of Diverse Students through Cultural Humility and Strengths-Based Advising. In this session, we explored how we can practice our advising from a space of Cultural Humility, where we should not only work to learn about the diverse backgrounds and needs of our students, but also practice self-reflection and aim to always be improving while continuing to advocate for addressing issues of equity and social injustice. While understanding difference is important, the speaker suggested that it's equally important to be self-aware and humble in this on-going process; you're never going to fully understand a background or culture you're not a part of, not can you fully understand the specific experiences of marginalization you haven't experienced. Because of this, it is vital that we as advisers continue to strive toward respect, understanding, and affirmation. Wokeness is never static, but instead is a life-long practice. Further, when advising students, it's beneficial to highlight the strengths students bring to whatever it is they are trying to accomplish. When students come in for advising, especially during times of struggle, it can be really hard to see the positive; helping students work through their issues or goals by identifying a student's strengths, and integrating these strengths into a plan to help the student meet their goals in a way that affirms who the student is.

Katie Schramm