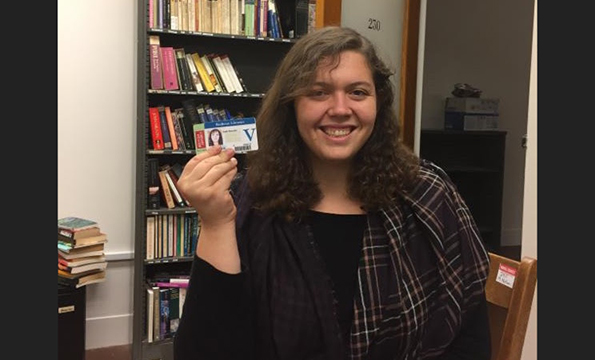 Last summer, Berkeley senior English major Arielle Moscati got two new library cards and fulfilled a long held dream: she researched her senior thesis in the British Library in London and the Bodleian Library in Oxford. A Los Angeles native, Arielle transferred to Berkeley from community college as a junior. Right away, she found her academic passion: the Middle Ages, and particularly medieval manuscripts. Working with Prof. Jennifer Miller, she developed a topic for her thesis: same-sex love and desire in the Middle Ages. With help from the financial aid office, Arielle was able to travel to England during the summer, where she took a course offered by Prof. Charlie Altieri on "Paganism: Classical to Modern," and spent her free time researching her thesis in Oxford and London.
At the Bodleian library, Arielle was inspired by their "Sappho to Suffrage" exhibit. It included a wide variety of books, manuscripts, pamphlets, and images that showcased women's achievements over the centuries. Particularly interesting were the three medieval manuscripts: one intended for a group of learned nuns in the 14th century; another belonging to St. Margaret, Queen of Scots (died 1093); and one containing the works of Christine de Pizan, the most famous woman writer of the Middle Ages.
Arielle read widely at the British Library and the Bodleian, and she soon discovered a new point of focus: medieval medicine. She encountered a work titled Galen's Secrets of Men and Secrets of Women, which included a series of recipes for changing sexuality – turning heterosexual women into lesbians, for example, or turning lesbians into straight women. Since returning, she has continued to develop her thesis – but is immensely grateful to have gotten a head start last summer. Your gift to the department will help us continue to fund students like Arielle for research in archives overseas and at home.