Writing in the Digital Age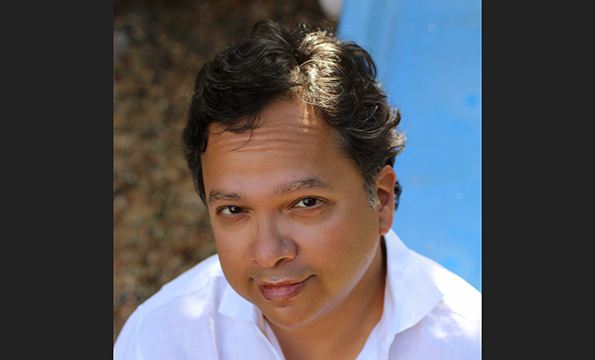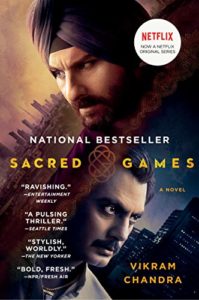 Vikram Chandra describes the experience of watching one of his novels come to dramatic life in a television series as "surreal." Already a well-known writer, with two novels and a collection of stories to his name, Chandra was approached in 2014 by Netflix with a proposal to base a series on his second novel, Sacred Games. The novel takes place in Mumbai and tells the story of Inspector Sartaj Singh (who first appeared in Chandra's collection of stories, Love and Longing in Bombay) and his quest to capture the most wanted gangster in India, Ganesh Gaitonde. It is epic in scope, with more than 100 speaking characters (more about that in a moment), and multiple intertwined plots. Sacred Games is Netflix's first original series set in India; it breaks new ground by having its characters speak Indian languages, primarily Hindi, but also Marathi, Punjabi, and Gujarati. It has been subtitled in over 20 different languages and distributed around the world. The series stars Saif Ali Khan as Inspector Sartaj Singh, Nawazuddin Siddiqui as Ganesh Gaitonde, and Radhika Apte as Anjali Mathur, an intelligence officer who helps Singh. All three are major Bollywood stars. It is directed by Vikramaditya Motwane and Anurag Kashyap, who produced it under their banner, Phantom Films.
The show has been widely praised and a ratings success, with a second season premiering in summer, 2019. A reviewer for GQ called it, "one of the best Netflix original shows in years." Writing for The Teal Mango, Saloni Gajjar described Sacred Games as "a riveting game changer." Ivan Radford of Vodzilla commented that "Sacred Games isn't some copycat thriller: it blazes a trail for its own take on the formula, one that pulsates with life, death and the myriad shades in between." Chandra acts as an advisor to the series; director Motwane remarks that, "Chandra is so research-intensive that we didn't have to approach another researcher, we just had to ask him questions."
Sacred Games is over 900 pages long and includes a huge number of characters, locations, events, and objects. Chandra wrote the novel the old-fashioned way, with complex spreadsheets, notes, maps and timelines on paper. Once he finished, he began wondering if there might be an easier way for writers to manage the data they generate in the process of writing a novel. His background in computer coding stood him in good stead (he put himself through grad school by working as a programmer), allowing him to imagine an innovative solution to the problem, which he formulated as "attaching knowledge to text." Chandra began working with a team of programmers to develop a platform—called Granthika, the Sanskrit word for "narrator"–that would serve writers' needs. He and his team will release a beta version of Granthika in Spring, 2019.
When Chandra shares the trial version of the software, his enthusiasm is infectious. His team has put together a demonstration text, the Arthur Conan Doyle story, "The Veiled Lodger." Chandra opens to a page that includes a highlighted mention of Dr. Watson, Sherlock Holmes' sidekick. He shows how clicking on "Watson" brings up a marginal window with a biography of the character and a list of all of the occurrences of that character's name in the story. Not only characters, but locations, events, and objects can be tagged; the writer highlights a word or phrase, then uses pop-up menus to connect the highlighted item to a category and its subsets. So the category "characters" contains subsets of each character in the story; similarly, the category "locations" includes a list of all of the locations in the story. In the course of writing, the author creates a complex knowledge map and timeline of the story or book, which she can then access during the writing process to check for inconsistencies or mistakes. In particular, the software keeps a timeline, which maps every event in sequence. In the future, Chandra and his team plan to add natural language processing to the software, which would enable the computer to recognize and tag items as characters, or events, or locations. Chandra envisions the software being useful to a wide variety of fields—any endeavor in which organizing large amounts of data, particularly on a timeline, is a central challenge. The first version will be for single users, but subsequent iterations will allow teams of writers and researchers to collaborate on shared documents.
In an interview with Tony Dushane, Chandra sums up his writing philosophy this way: "I usually steal a line from Yeats and it goes, Read what gives you pleasure, write what you must. I think that's pretty good advice. Read, read, read, and then explore your obsessions because I think that's where the energy comes from." That's good advice for all of us—English majors, English alums, English professors, and friends of English.