Forgotten Chapters of Department History: #2 Professor Dorothee Finkelstein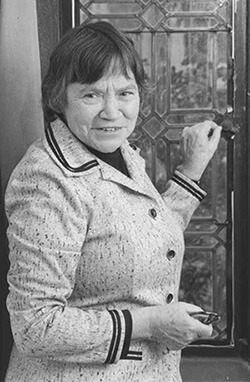 by Natalie Stone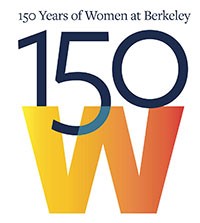 Although adversity is often considered a routine condition of human life, rarely does it forge an academic and personal strength as resolute as that of Professor Dorothee Finkelstein, the second woman to be tenured in the English Department. Escaping the Russian Revolution as a young child and later immigrating to Britain to escape the threat of Nazi-dominated Easter Europe, Finkelstein also began her academic work amid the tensions of the founding of the State of Israel. At Berkeley, she taught in the midst of the social upheaval of the Free Speech Movement. These events not only shaped her political convictions but were also bound up with her scholarly work and her deep love of literature.
Dorothee Finkelstein was born in 1914 in Koenigsberg, Germany, under the surname Metlitzki. Both of her parents were Jewish, and her family moved back to her father's birthplace in Russia in 1917, just before the Russian Revolution broke out. This was the first of several historical events that would to disrupt Finkelstein's life. The Revolution's political turmoil lead to her father's imprisonment and her mother's escape with her to St. Petersburg. She spent two years separated from her father until he was freed, and then her family fled once again to Lithuania, where she spent the rest of her childhood and received her secondary education at a German Gymnasium. At age 19, Finkelstein was dislocated again when Hitler took power in Germany, creating insecurity among the Jews not only in Germany but also in neighboring countries. She moved to London, where she attended University College, pursuing both Bachelor's and Master's Degrees in Arabic and medieval English.
Her study of Arabic language and literature inspired a passionate interest in the Middle East, so at the age of 24 she moved to Palestine, then a British protectorate, where she lived for 15 years. The WWII years brought her tremendous personal loss: she was married and widowed twice. But she also gave birth to a daughter and took an active part in the Zionist movement. In Palestine (later Israel), Finkelstein was able to combine Arabic and English studies through her development of the English Department at Hebrew University. And despite the historic turmoil and repeated confrontations with personal adversity, she continued working for the causes she found most important. She helped to found the state of Israel in 1948, and she had many Arab as well as Israeli friends. As a Jewish woman who had lived through the Holocaust, she profoundly understood the essentiality of protecting the rights of traditionally ostracized groups, leading her to create an agency within the Israeli Federation of Labor specifically designed to safeguard Arab women. She envisioned a bi-lingual and bi-cultural state in Israel, which she thought could combine elements of Western and Arabic cultures.
Even after leaving Israel for the U.S. in 1953, Finkelstein continued her efforts to explore bridges between East and West in in her academic work, which she began professionally upon receiving her doctorate at Yale University in 1957. There she met Jacob Finkelstein, her third husband, and together they moved to Berkeley after he was offered an assistant professorship. Dorothee Finkelstein was only offered a job as a lecturer despite her doctorate and the fact that Yale University Press was about to publish her first book, Melville's Orienda, on Herman Melville use of Islamic elements in his fiction. Such devaluations of women's scholarly status were typical of the time. Ultimately, though, the English Department did recognize Finkelstein's immense learning and excellent scholarship. She became well-known among students and colleagues for her linguistic prowess: she was fluent in eight languages. Her first book received excellent reviews, and she was one of the most esteemed lecturers in the English Department. These factors led to her finally receiving tenure as an associate professor in 1965, only the second tenured woman in the department's ninety-six year history.
In her scholarly work, Finkelstein consistently promoted intercultural exchange and understanding by demonstrating the contributions made to Western thought by Arabic learning and literature. One reviewer of Melville's Orienda, for example, explained that it "not only defines an important, aspect of Melville's literary background" but also "throws light on the large, neglected area of Near Eastern influences in American literature" (Wright, 419). Similar assessments came from reviewers of her later work, especially The Matter of Araby in Medieval England (1977), which mapped the even larger, neglected areas of Near Eastern influences in Western medieval learning and culture generally and in Middle-English literature specifically. Her research and scholarly writing thus continued her attempts in Jerusalem to find a meeting ground between Arab and Jewish people, attempts that were inspired by her multiple personal experiences of discrimination and displacement.
Her many close brushes with historical catastrophe also apparently helped make her a riveting and charismatic teacher. Knowledge of her classroom presence comes to us from students at both Berkeley and Yale who were devoted her. A former Yale student explained the personal basis of Finkelstein's unusual appeal in a profile posted on The Jewish Women's Archive: "One of the greatest sources of her sadness, as well as a source of her charm, was that her past was always with her. She was highly conscious of being a woman, alone, struggling for survival and recognition in a man's world" (Sen). Berkeley students were similarly mesmerized by the range of her scholarly knowledge and her historical experience, although Finkelstein's personal history was not yet widely known when she taught here. In 1965, she separated from her husband, reclaimed her maiden name of Metlitzki, and returned to Yale, where the English Department had offered her a tenured position. Although it's been fifty-five years since Finkelstein taught at Berkeley, one of her former students, alumna and writer Kim Chernin, still recalls the strong impression she made as a teacher during her last year in Berkeley and under the stressful teaching conditions of the Free Speech Movement. Chernin's complete recollection is posted separately on this page, but its conclusion bears repeating: "This woman, our English professor, had found a way to transform crisis and near-disaster into self-transformation, development and social commitment."
Although she spent the rest of her career at Yale, Finkelstein seemed not quite at home there. According to the profile in the Jewish Women's Archive,
Although fluent in so many languages and living on so many continents, she never quite found her place in the world. When asked where she was from, she did not know how to answer. She very much resembled some of the translators of medieval times about whom she wrote, who traveled from place to place in the pursuit of knowledge and found their homes in their books. She liked to say that one could not separate one's personal life from one's scholarly work. That was certainly true about her. (Sen)
The Berkeley English Department was lucky to have this intrepid intellectual sojourner for eight crucial years of her career. Finkelstein combined her impressive academic abilities with the individual knowledge drawn from her life experiences to inspire the critical and artistic talents of her students.
She passed away in April of 2001, and we hope this portrait will help revive and keep her legacy alive the Berkeley English Department.
---
Sources
https://en.wikipedia.org/wiki/Dorothee_Metlitzki
Muscatine, Charles. Obituary of UC Berkeley http://content.cdlib.org/view?docId=hb987008v1&doc.view=frames&chunk.id=div00047&toc.depth=1&toc.id=&brand=calisphere
Sen, Mandu, "Dorothy Melitzki, 1914-2001". https://jwa.org/encyclopedia/article/metlitzki-dorothee
Wright, Nathalia. "Rev. of Melville's Orienda, by Dorothee Metlitsky Finkelstein. New England Quarterly. 35:3 (1962). Pp. 18-20.