2023 Gayley Lecture | "Now More Than Ever: Barely Narrative in Nixonland" | Kent Puckett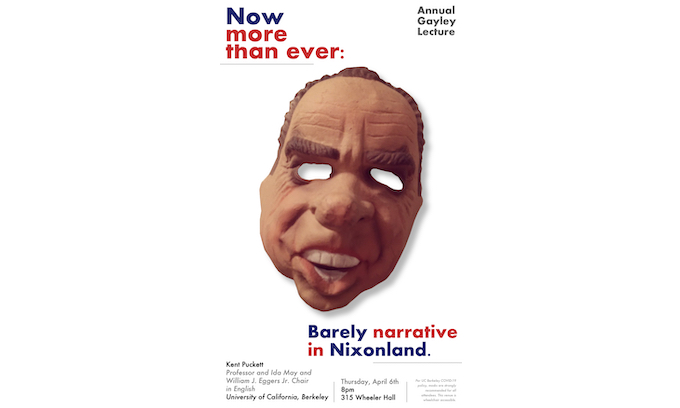 Professor Kent Puckett, the Ida May and William J. Eggers Jr. Chair in English, will deliver this year's Charles Mills Gayley Lecture on April 6th at 8pm in 315 Wheeler Hall.  The annual Gayley Lecture is delivered by a distinguished member of the faculty chosen by their colleagues.
Professor Puckett's lecture is titled "Now More Than Ever: Barely Narrative in Nixonland." This lecture will offer an analysis of some of the myths and peculiar narrative expectations that characterized Nixon's time in office and the events that led to the Watergate scandal. Although the details of the break-in and its attempted cover-up are well-known, some of the strange ideas, plots, motifs, and structures that informed the thinking of Nixon and all the president's men are less so. From Operation Gemstone to CREEP, from Whittaker Chambers to Watergate, from Checkers to Dita Beard, from the Committee of 100 to the Silent Majority, the overheated but barely narrative narratives that punctuate Nixon's rise and fall represent a strange, paranoid, and unfinished political contest between reality and the dream.