Graduate Student Poets: Noah Warren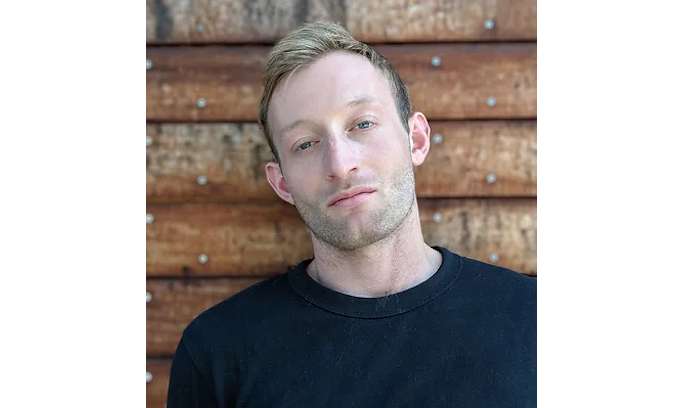 This piece is the third in a series about graduate student poets in the Department of English at Berkeley.
Noah Warren joined the Berkeley English Department as a Ph.D. student in 2018. He is the author of The Complete Stories (Copper Canyon, 2021) and The Destroyer in the Glass (chosen by Carl Phillips for the 2016 Yale Series of Younger Poets). His work has been supported by fellowships from Yale, Stanford, and other institutions.
At Berkeley, Noah coordinates the Lunch Poems reading series with Professor Geoffrey G. O'Brien, having served as its interim director last year. He has also been a Poetry and the Senses graduate student fellow at the Arts Research Center and a Simpson Fellow with the New Literary Project. He balances work on his dissertation on 19th Century American poetry with creative writing — a novel and a new collection of verse are in progress — and public-facing criticism. His poems "The Complete Stories" and "Calendar" appeared in The Paris Review, and an essay on Solmaz Sharif's new collection Customs can be found online at Poetry Foundation. You can watch his reading at Lunch Poems here.
We asked Noah about his recent activities and how he balances his creative and critical projects. Here is what he told us:
What is the focus of your current research? What have you been working on lately, or looking forward to?
I'm interested in thinking about the way poetry organizes prose, and thereby the burgeoning prose economy, in the American context from roughly 1830-1870. My gambit is that even as prose inherits more of the cultural functions once arrogated to poetry (Cavell talks about Walden, stressing the formal characteristics of epic, as a prose epic), those incursions by poetry into mixed texts function as telling aporia, leading to interesting questions about, for instance, how much affect prose is supposed to be able to bear, and the representation of time on levels both local (Thoreau) or incompletely national (Douglass's North Star). I also try to maintain an active public-facing criticism practice. Right now, I'm putting together a chiastic piece about contemporary American poetry reaching to China (often marked by the modernist understanding of Chinese poetry as compressed, inscrutable), and Chinese poetry reaching verbosely, ebulliently, toward a very different American poetics.
Would you say that your research informs your poetry? If so, how so? If not, why not?
Absolutely. It's not coincidental that my poems got more invested in a prose rhythm, in long lines and long sentences, as my focus turned to one historical fault line of poetry and prose. As to the precise relationship? Not going to touch that. There's a reason I don't work, academically, on contemporary poetry; I want to keep a little mystery here and there, to splash in lugubriously when I feel like feeling, not thinking.
How does your life as a graduate student contribute to or intersect with your life as a poet, if at all?
At this point, deeply intertwined. Graduate school definitely gave me the confidence and vocabulary to start writing public-facing criticism more confidently, and the geist of the department encouraged me to cultivate that side of my brain. There have been multiple, really enriching opportunities at Berkeley that have encouraged me to keep doubting and rearranging the boundaries between creative work (maybe generative is better) and criticism, among them working with the legendary Lyn Hejinian, who kept me reading German modernism and affect theory as I assembled long projects both in prose and verse; the Arts Research Center fellowship; and the New Literary Project, for whom I've been teaching Creative Writing in the schools for a few years now.  I've also been working getting the Lunch Poems reading series set for next year. There's a lot to praise about the series, but I love helping introduce poetry to communities who may not interact with it regularly.
As a poet, why Berkeley?
Where else? I was living in San Francisco when I applied, and I had always gazed longingly across the bay at the intellectual and social energy at Berkeley. There's no place like it in the country to think hard and do poetry among brilliant people.